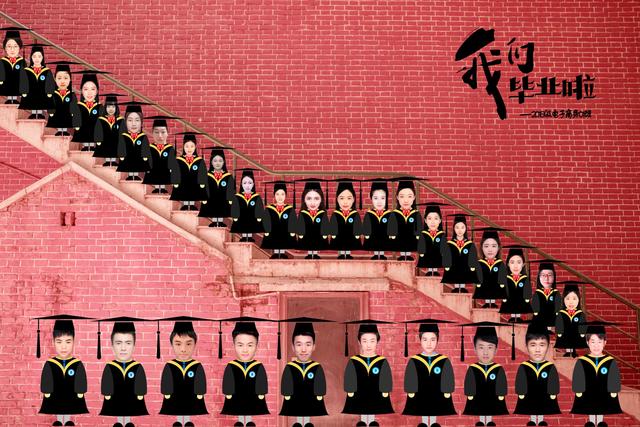 The graduation photo of a class at Tianjin University designed by Han Xiaojun and three classmates (Xinhua)
The 31 fresh graduates of a class at Tianjin University in north China's Tianjin Municipality have received their graduation photos online.
As they were unable to go back to school due to COVID-19, the photos were taken on the cloud.
Han Xiaojun, 22, spent three weeks designing the graduation photos with three classmates. They put 31 ID photos of their classmates and themselves into image processing software Photoshop and added the animated graduation robes.
"We were worried that our classmates might not have the chance to come back to school and get together to take a graduation photo," Han said. "I'm willing to take advantage of my photo retouching technique to make up for the regret we might have."
To make it look more vivid, their teachers also helped them use photographs of many important locations on the campus as the background of their graduation photos.
The photos show the students change their formations at different landmark buildings at the university.
"We often went to these places, which could revive memories. That's a unique gift to record our college years," Han said, adding that his classmates were surprised and moved on receiving this gift.
A total of 8.74 million students in China are expected to graduate from college this year. Due to COVID-19, many universities sought to host graduation ceremonies and concerts online.
On the eve of June 29, an online concert brought together thousands of Tianjin University graduates from different places. They posted comments and wishes online and sang aloud to the melody.
Participants in the event recorded their respective parts at home in advance and then integrated them into a complete chorus.
"The new graduates organized their graduation concert in digital form despite COVID-19. We wish all of them a bright future," said Guan Hong, secretary of the Youth League Committee of Tianjin University.
At Nankai University, a livestreaming graduation party attracted over one million viewers on June 28.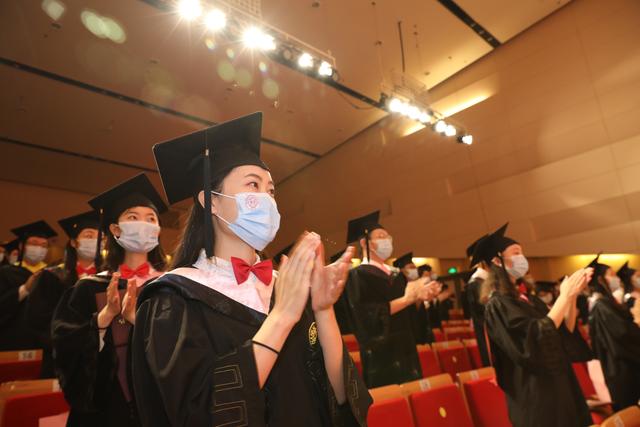 The livestreaming graduation ceremony at Nankai University on June 28, 2020 (Xinhua/Nie Jici)
Hu Fuxin, 22, put on a light yellow floral dress that she did not often wear and attended her graduation ceremony by watching it at home on her laptop in central China's Hubei Province, which was once hit hard by COVID-19.
The special ceremony was partially virtual, with more than 200 graduates and a few teachers physically present, wearing masks. Others attended online.
"It's the most important moment in my four-year college life. It's a pity to be absent, but the school offered us much care and love, and tried its best to create a special one for us. I was deeply moved," said Hu.
Nankai University made a promise at the commencement ceremony to set up special seats for members of the class of 2020 to attend any other graduation ceremony in the future in lieu of the one that they missed. "I feel being loved by my university," Hu said.
In addition, Hu received a heartwarming video from her roommates, who shot video clips in many places that they were familiar with on campus and said loudly, "Hu Fuxin, happy graduation!"
"We 'reunite' in this video. It feels like she's right here by our side. We can feel the joy of graduation together," said Ma Hongying, Hu's roommate.